Gluten-Free Baguette
A fresh, crusty, gluten-free baguette.
Gluten-Free Baguettes
While dining at a local restaurant, a waiter stopped by to put bread on our table. Our youngest daughter asked if they had a gluten-free baguette available. The server tried not to laugh, and said I'm not sure you can even make one of those. This was a staple in our house, and it should be in yours too!
A good gluten-free bread is like magic
A good crusty baguette can be used to make a French bread pizza or garlic bread. Butter it up and scoop some sauce. Or pan toast a slice a load it with avocado or an egg.
The regular baguette weights approximately 12 ounces.
We think these are pretty special, and I think you will too. With a very simple ingredient list that doesn't include dairy, we can make these vegan on request by skipping the egg wash on top. Just let us know in the order notes.
Available for pick up every Tuesday. Place your order before Tuesday 6am, every week. We'll confirm your order, bake your bread and have it ready for you to pick up after 3PM.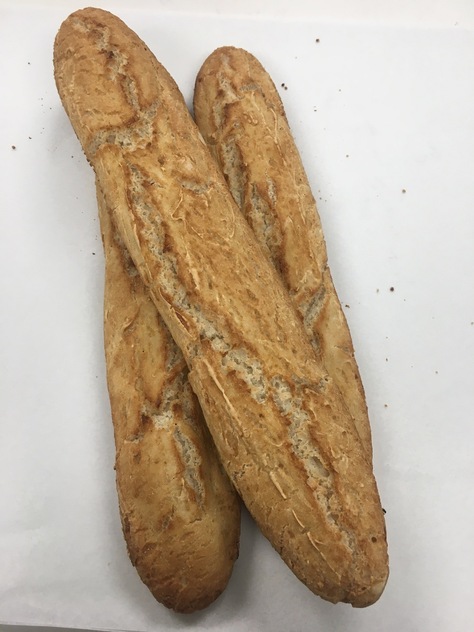 Available Flavors
$7.00 & free shipping
12 ounces of delicious and crusty gluten-free bread
$12.00 & free shipping
2 is better than 1!